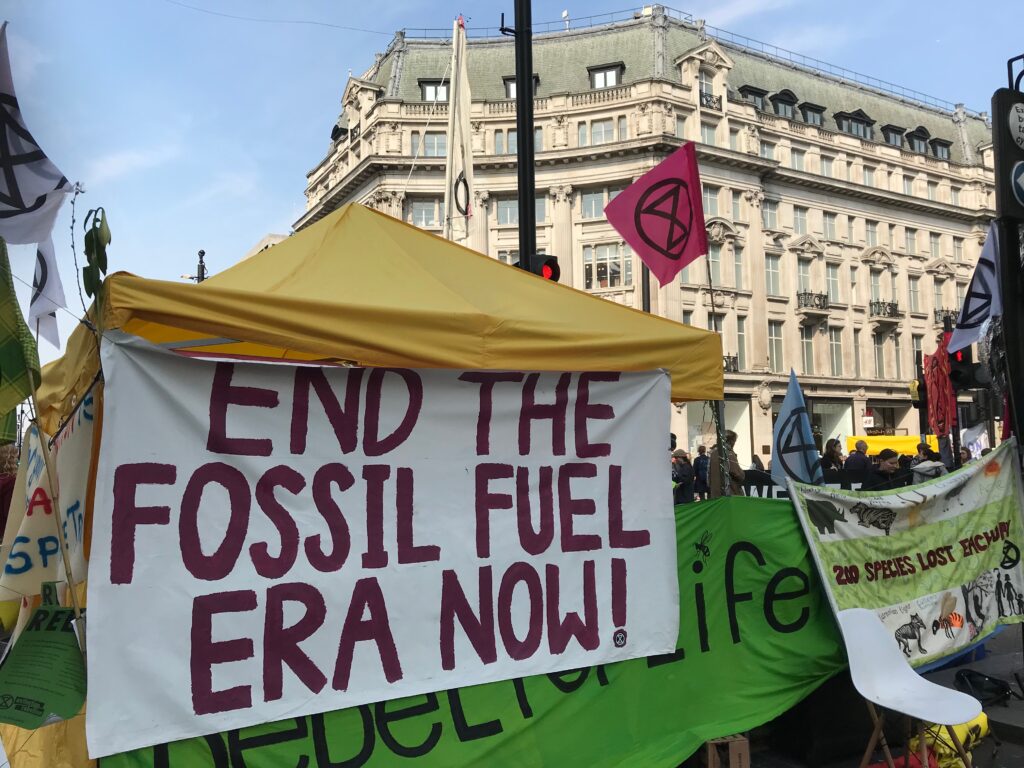 After the alderman backtracked last October on an earlier decision to prohibit any advertising for fossil fuel related products on bus stops and other municipal property we were disappointed.
GroenLinks and the SP had asked the alderman to add terms prohibiting advertising by certain fossil fuel related companies to the new contract with the operator of the bus stops and advertising pillars (big things next to the motorway) on municipal property, just as political parties in other city's have done with success. For example: Amersfoort, Utrecht, Enschede, Leiden, Haarlem and Amsterdam.
But the alderman and his legal team came to the conclusion that commercial advertising can only be limited by law or regulation, not in a private contract because it's protected under freedom of speech. We needed to find a different solution.
Is commercial advertising protected?
Our constitution specifically states in article 7.4 that commercial advertising is not protected under freedom of speech. But the European Court of Human Rights has on multiple occasions, confirmed that in fact it is protected under freedom of speech. The door was opened in 1979 in a case involving a Swedish Scientology pastor and an ad in local newspaper (X. and Church of Scientology v. Sweden (7805/77)).

I found this interesting article (in Dutch) about a rejected change to article 7 of our constitution while doing my research. It gives a nice overview of the legal status of commercial advertising in 2003 in the Netherlands and Europe and references a lot of cases.
"Trade advertising crept into the realm of freedom of speech through the hole in the hedge that had been created by freedom of religion"

Kabel, J. (2003). Vijfentwintig jaar uitingsvrijheid voor handelsreclame in de Rechtspraak. Van ontvanger naar zender. Opstellen aangeboden aan prof. mr. J.M. de Meij, 175 – 191, 175–191. https://www.ivir.nl/publicaties/download/uitingsvrijheid_voor_handelsreclame.PDF
The conclusion I drew, as a person who does not have a law degree, is to follow our alderman and his legal team and presume that commercial advertising is protected under freedom of speech and therefore can only be restricted by law or regulation.
Article 10 of the European Convention on Human Rights states in which cases restricting freedom of speech is allowed.
The motion
Together with PvdD, VOLT, CU , PvdA and SP we drafted this motion:
The Zwolle City Council in session on May 08th 2023
Noting that :
The alderman has backtracked on a previously adopted position to ban advertising for
fossil fuel related products in public spaces on carriers owned by the municipality. Partly due to the lack of democratic legitimacy for restricting freedom of expression on commercial advertising.
The European Court of Human Rights, which oversees freedom of expression, argues that a careful procedure is essential when restricting freedom of expression and believes that a democratic process through decision-making by a municipal council is such a careful procedure. But only under the condition that the expression(s) harms a larger, collective interest, such as public health.
Fossil fuels cause serious damage to human health and our climate.
Whereas:
Banning advertisements for fossil fuels is appropriate to the climate objectives of the municipality;
Banning fossil fuel advertising contributes to the de-normalization of fossil fuels;
Public awareness of fossil fuels can be influenced by reducing fossil fuel related advertising in the public space; The municipality can be a driving factor for this change;
Other cities have already preceded us (including Amersfoort, Utrecht, Enschede, Leiden, Amsterdam, Haarlem)
Calls on the alderman to :
Draft a proposal for a ban on fossil advertising in public spaces;
To incorporate this into the already announced revision of the APV or a separate
regulation;
In doing so, define fossil advertising as advertising for fossil products and
services: fossil fuels, holiday flights including package holidays of which an
airline ticket is part of, airline tickets, grey electricity contracts, gas contracts,
cruises and vehicles with an combustion engine ;
To enter into discussions with the Milieuraad on tackling greenwashing in
advertising in Zwolle;
Informing the council on relevant developments, results achieved and any
financial consequences.

Since the Alderman and his legal team also reasoned that we could not ban certain companies or industries, because we would then be discriminating against who these companies are, we could only ban certain products and services and not use a definition like these organizations in Amsterdam came up with. I found it hard to find jurisprudence about this specifically.
By only banning products and services this posed a problem for the issue of Greenwashing. Since a car or oil company could no longer advertise for their main products, but could still use posters saying that they plant a couple of trees and are therefor a very green company. We tried to solve this by asking the alderman to work together with the Milieuraad to come up with an action plan to counter Greenwashing separately.
I'm keen to see how this impacts public spaces in our city. This motion will also be a stepping stone to a debate about advertisement in general in our public spaces. Do you think the municipality should make money by renting out bus stops etc? Or do you prefer a public space with less advertising? I'm keen to hear your thoughts.
Credits:
All linked documents (even those of which I saved a copy on my web server for the sake of accessibility) are not licensed under Creative Commons Attribution-ShareAlike 4.0 International License but kept their original license.
Image used at top of blog is: End the Fossil Fuel Era now by Matt Brown and is licensed under CC BY 2.0