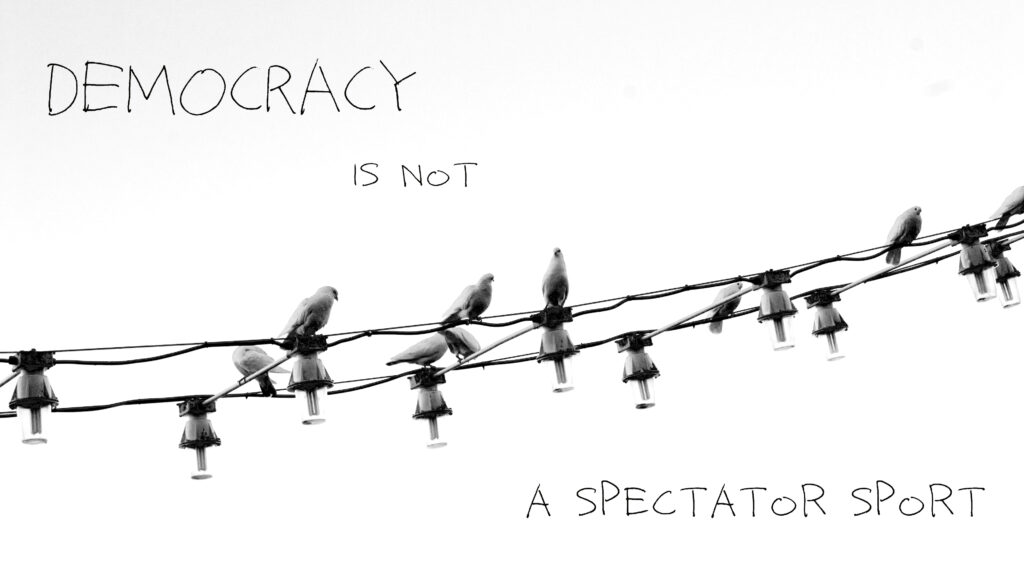 For this debate I had to replace my colleague Marloes. Because the national government introduced the new Omgevingswet , which goes into effect January first 2024, every municipality needs to have a participation ordinance. Zwolle developed this ordinance together with residents, interest groups and a committee on citizen participation. The municipality wants it to be used as a template for all participation organized in the city, not only the projects that fall under the omgevingswet.
The ordinance tries to set the rules and create clear guidelines for all parties including the municipality itself when it comes to citizen participation for both small and big projects.
Below you can read our statement or watch the debate (in Dutch).
Statement:
Living together means participating, being able to participate. For GroenLinks, it is important that residents are involved in developments and feel invited to come up with initiatives.
That is why it is nice to see that when we talk about participation policy, the city, various interest groups and our own council's working group have been involved in quite a few meetings to shape this document, meta-participation we shall call it in "bobotaal". In general, GroenLinks agrees with the approach, but still has some questions and comments. On the one hand, the document provides a lot of flexibility to deliver tailor-made solutions, but in that flexibility there is also a danger of lack of clarity.
If we want to use this participation approach as a template for all types of projects, from a large property development project to a resident who wants a vegetable garden on municipal land for himself and a few neighbours, GroenLinks is concerned about those smaller initiatives.
For example if I take the initiative with two neighbours to investigate whether my neighbourhood wants to sacrifice some parking space for a nice piece of greenery and the municipality asks if I have already finished my actor or environmental impact analysis? Says I am personally responsible for careful neighbourhood participation and whether I want to provide a participation journal afterwards, I would give up before we would have started. Can the alderman indicate the extent to which this policy can be a barrier to smaller initiatives and how we can make that barrier as small as possible? How do we concretely show in our communication what the differences are between a project developer's route and that of our neighbour?
Furthermore, Groenlinks is curious about how the municipality, again, can support those smaller initiatives? If we make a resident responsible for good participation in the neighbourhood and that person has to pay specific attention to target groups that are normally harder to reach, the document mentions illiterate residents, but also people who cannot speak Dutch come to mind, what kind of support can the municipality give to lower the threshold and make the project a success?
The document also mentions that all information about the process must be continuously available. GroenLinks hopes that this will at least always be digital, in a logical central location for all these projects. The document unfortunately says nothing about this, can the alderman reassure us about this?
As a final point, I would like to draw attention to the use of open source software, as this should actually go without saying for governments. If something is paid for from taxpayers' money, isn't it logical that the end product should be made available to all of us, so that other governments, companies and residents can use the products they have paid for through taxation? The Free Software Foundation Europe brings that to the attention of the public with its campaign called Public money, public code. GroenLinks therefore welcomed the use of Open Stad and mentioned alternatives earlier. We hereby reiterate our hope that a similar open source tool will be chosen in the follow-up process.
By informing and inviting residents, with the right expectations, in a timely and correct manner, without creating the impression that participation is very complicated, we will make Zwolle into the Valuable Society we want it to be.
Credits:
All linked documents (even those of which I saved a copy on my web server for the sake of accessibility) are not licensed under Creative Commons Attribution-ShareAlike 4.0 International License but kept their original license.
Image used at top of blog is: DEMOCRACY by SUXSIEQ and is licensed under CC BY 2.0